The name "Morso" is inspired from the french word 'morçeau' (a piece of something). Just like physiotherapy, chiropractic and athletic therapy are essential services so is Massage Therapy. These are services or puzzles pieces one can add to their daily lives to improve their overall health. Morso is that missing puzzle piece!
Morso Therapy Clinic was established as a Home-Based Clinic in 2016 and has been growing since. Clients now have the option of either: booking an appointment at the Home-Clinic located on Eagleview Road in Bridgewater or booking a Mobile Service where the therapist goes to them. We currently provide Mobile Services in most part of Winnipeg and La Salle.
.
---
Meet The Therapist – Sissi Efu.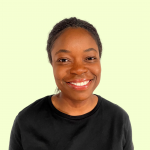 Sissi, founder and operator of Morso Therapy Clinic, graduated from Wellington College of Remedial Massage Therapy in 2013 and has been practising since. After receiving her Bachelor's Degree in Biology at Ottawa University in 2007, her love for science, the human body and her believes in the power of hands on health has inspired her to become a Registered Massage Therapist. She understands that each client is unique and the treatment must reflect that. Her unique style of massage incorporates deep tissue techniques, muscle energy techniques (MET) and other modalities. She's best known for combining relaxation and therapeutic massage.
---
Book An Appointment
call: 204-688-2376
email: info@morsotherapy.ca
---